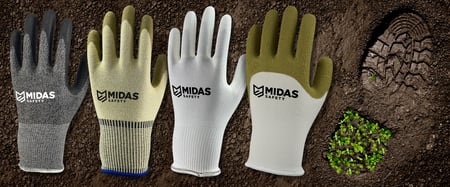 Challenging the market with eco-friendly hand protection solutions.
As customers become more environmentally conscious and demand products made with recycled materials, Midas Safety offers a range of eco-friendly hand protection solutions, Midas Green, which provide comfort, dexterity, breathability, durability and most importantly, protection, while combining ergonomic design and seamless construction.
The new range of eco-friendly gloves are suitable for a wide range of applications, from cut protection to general handling, offering a solution for eco-friendly businesses and consumers requiring first class quality hand protection.
Available currently in ten styles, many of the gloves in the range are manufactured from recycled materials with the polyester yarn being derived from a 5-step process which converts plastic bottles to the base material used to produce high-quality hand protection and provide EN388:2016 compliance.
Find out more about eco friendly products from Midas Safety
More about the Midas Green range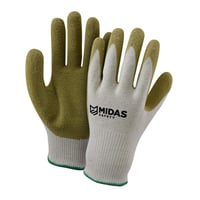 Eco-friendly
Splendor™
Our flagship eco-based glove offers ISO 13997 and E388:2016 cut resistant hand protection without utilising costly or abrasive cut resistant fibres and absorbs sweat, keeping hands comfortable. This unique innovation utilises a sustainable liner containing 42% recycled yarns.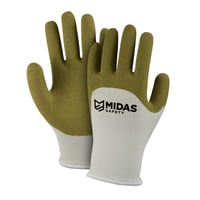 Eco-friendly
Splendor™ Winter
This Winter version of our eco-based glove contains 59% recycled yarns composed of polyester, cotton and regenerated viscose, plus a natural rubber coating. It provides EN511:2006 and EN407:2020 compliance, offering protection from contact with heat and cold as well as excellent wet and dry grip, and a soft, durable and flexible coating to keep hands comfortable.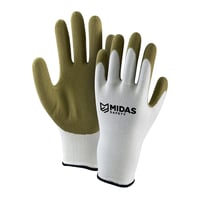 Eco-friendly
Splendor™ Lite
A 90% recycled polyester version of our flagship eco-based glove, provides EN407:2020 compliance, protecting against thermal risks including heat. Whilst being highly flexible and soft with excellent dexterity and tactility, and excellent grip in wet conditions.
Eco-friendly
Splendor™ Cut
A cut resistant version of our eco-based glove, EN388:2016 compliant, it features a recycled polyester-aramid composite liner delivering a high level of cut resistance. It has been ergonomically designed for good dexterity, flexibility and comfort, with a natural Latex coating offering reliable abrasion and increased tear resistance.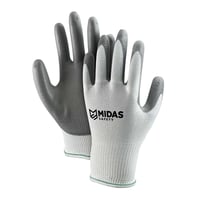 Eco-friendly
PU
These super-sleek gloves, which contain 85% recycled polyester with a PU coating, offer maximum comfort and tactile sensitivity, excellent grip in all conditions and a non-slip coating for secure handling of devices. It also provides EN407:2020 compliance for heat.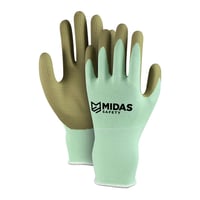 Eco-friendly ANR
This Advanced Natural Rubber (ANR) glove containing 90% recycled polyester, features a unique grip pattern with a special suction cupped pattern providing excellent wet and dry grip, with comfortability.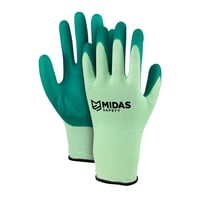 Eco-friendly NRS
This Natural Rubber Sponge (NRS) glove features a specially formulated sponge coating providing better breathability than a crinkle latex coating. It has been ergonomically designed for improved comfort, dexterity, flexibility and tactility.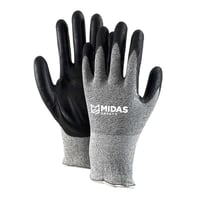 PU Cut DA5
Containing 60% recycled polyester and 14% Tencell TM Lyocell processed natural fibres, our PU CUT DA4 also provides high quality all-round grip, thumb crotch reinforcement for extended durability, cut resistance and touchscreen capability. With EN388:2016 and EN407:2020 compliance this glove is ideal for protecting hands when handling glass or sheet metal.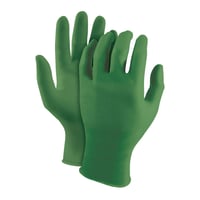 Biodegradable Nitrile Disposable
Our new biodegradable nitrile disposable glove protects against low-risk solvents and mild chemicals, degrades much faster than a typical nitrile glove with 62% degradation in 365 days and is designed for use in the food industry, FDA 21 CFR 177:2600 and EC NO: 1935:2004 compliant.